Featured Article
Click on the above picture to read a Synopsis of the entire KashiMashi; Girl Meets Girl series, as well as Anime and Manga Critic's Reviews
The Manga Team
Written by: Satoru Akahori
Illustrated by: Yukimaru Katsura
Published by: MediaWorks
English publisher: Seven Seas Entertainment
Demographic: Shoujo/Si-Fi
Magazine: Dengki Daioh
Original Run: July 2004 – May 2007
Volumes Published: 5
The Anime Team
Directed by: Nobuaki Nakanishi
Written by: Jukki Hanada
Production Studio: Studio Hibari
Licensed by: AnimeWorks
Original Network: TV Tokyo
Original Run: January 11, 2006 – March 29, 2006
Episodes: 12
The Light Novel Team
Written by: Mako Komao
Illustrated by: Yukimaru Katsura
Published by: MediaWorks
Demographic: Shojo/Si-Fi
Printer: Dengeki Bunko
Published: January 10, 2006
The Gamer Team
Developer: Vridge
Publisher: Marvelous Interactive
Genre: Visual Novel
Platform: PlayStation 2
Original Release: March 30, 2006
Rereleased: November 16, 2006
The OAV Team
Directed by: Nobuaki Nakanishi
Written by: Jukki Hanada
Production Studio: Studio Hibari
Licensed by: AnimeWorks
Released: October 27, 2006
Runtime: 27 minutes
Kashimashi: Girl Meets Girl (かしまし ~ガール・ミーツ・ガール~ Kashimashi ~Gāru Mītsu Gāru~) is a Japanese yuri manga series written by Satoru Akahori and illustrated by Yukimaru Katsura. The manga was originally serialized in Dengeki Daioh between the July 2004 and May 2007 issues, and later published in five bound volumes by MediaWorks from January 2005 to May 2007. The story focuses on Hazumu Osaragi, a normal, albeit effeminate high school boy who is killed when an alien spaceship crash lands on him, only to be restored to life as a girl. This results in a same-gender love triangle that Hazumu finds herself in with two of her best female friends.
A single light novel written by Mako Komao and illustrated by the manga's artist was published by MediaWorks under their Dengeki Bunko imprint in January 2006. The manga series was adapted into a twelve-episode anime television series plus a single original video animation (OVA) sequel by Studio Hibari. The anime aired in Japan on TV Tokyo between January and March 2006; the OVA was released in October 2006. A visual novel was created based on the series for the PlayStation 2 and was released in March 2006. Seven Seas Entertainment licensed the manga series for English-language publication in North America and released the five volumes between December 2006 and March 2008. Media Blasters licensed the anime series, including the OVA, and released three DVD volumes between June and October 2007 with English-subtitles. Media Blasters re-released the anime with an English dub.
KASHIMASHI: GIRL MEETS GIRL IS A MALE-TO-FEMALE TRANSGENDER THEMED WIKI, AS WELL AS A LIGHT YURI THEMED WIKI. This means that in both the anime and manga, there are occasionally shown social interludes of girl-with-girl romance. Nothing is more than PG-13, but reader or viewer discretion is advised.
Kashimashi:Girl Meets Girl has been released as a Manga, a Light Novel, an Anime, an Anime OAV, and as a Video Game. All five media have the telling of the story of Kashimashi with the same basic characters, situations, and story themes. However, different and alternate endings to the basic story can be found in each media. One can therefore, 'take their pick' of the kind of ending that they most enjoy.
Artistic Concept and Production
When it was decided that Kashimashi: Girl Meets Girl would begin serialization in MediaWorks' manga magazine Dengeki Daioh, Satoru Akahori wondered what kind of a message he could send to the readers, and eventually decided he wanted to write a steady message of "true love". Akahori noted that up to the creation of Kashimashi, the works that he created were far apart from the concept of true love, and much of his previous work involved a lot of ecchi content which Akahori was attempting to avoid in Kashimashi. He wondered if the story would be interesting, and if he could surprise normal readers and fans of his previous works, if he wrote a true love story without much ecchi or fan service ?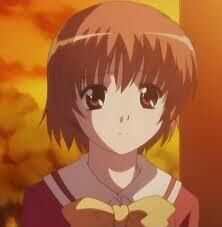 When thinking on how to write about true love, Akahori considered laughingly that in normal relationships between boys and girls, it eventually tends towards them having sex. In order to avoid this, he chose to have a cast of female main characters, but he felt that audiences have experienced this before and that it thus would not be enough. This is when he thought up the idea of changing the main character from a boy to a girl. Akahori knew this would be a problem, since normally changing a person's gender would cause emotional and social complications, one of them being that the now-female character would invariably want to return to being male. He knew that there were a few problems that could not be avoided, but he wanted to remove the desire to turn back into a male. For this reason, Akahori devised that the character would not want to turn back into a male if there was the impact of the entire world already having accepted the fact that his gender had changed. To do this, Akahori decided to have the alien who crashed into the character to not only revive the character as a female, but to broadcast this to the entire world's media, which is what happens at the beginning of Kashimashi. Afterwards, Akahori felt it necessary to expand on the alien's role in the story. At this point in the development process, Akahori felt he could now begin writing the story.
The title Kashimashi loosely translates as "noisy, boisterous, or clamorous" and is derived from the Japanese phrase, "When three women gather, it is noisy" (女三人寄れば姦しい Onna sannin yoreba kashimashii). The main title was originally romanized as Kasimasi in accordance with Kunrei-shiki romanization, but this was later changed in the English adaptations to Kashimashi in accordance with Hepburn romanization.
The Main Characters
The Main Characters of Kashimashi: Girl Meets Girl are shown below---
Distribution
Manga
The Kashimashi manga is written by Satoru Akahori and illustrated by Yukimaru Katsura. The original character designs were created by Sukune Inugami and the school uniform was designed by the company Cospa. It was serialized between the July 2004 and May 2007 issues of the monthly manga magazine Dengeki Daioh, sold between May 21, 2004 and March 21, 2007, respectively. Five bound volumes were released in Japan between January 27, 2005 and May 26, 2007 published under MediaWorks' Dengeki Comics imprint, concluding the series at the end of thirty-five chapters.
The manga was licensed for an English-language release in North America by Seven Seas Entertainment using the revised Hepburn romanization of the title, Kashimashi, unlike the traditional name of Kasimasi. The first English language volume was released on December 25, 2006, with volumes released every three to four months until the fifth volume was published on March 18, 2008. Seven Seas re-released the manga in a two-volume omnibus collection of roughly 500 pages each; Volume One was published in June 2009, followed by Volume Two in December 2009. The series is also licensed in French by Ki-oon and in Chinese in Taiwan by Kadokawa Media.
A list of the KashiMashi manga chapters can be found here.
Anime
The anime series of Kashimashi was produced by Studio Hibari, directed by Nobuaki Nakanishi, and written by Jukki Hanada. The series aired on TV Tokyo in Japan from January 11 to March 29, 2006, ending with twelve regular episodes. The episodes were released on seven DVD compilations released between April 26 and October 27, 2006, each containing two episodes. An original video animation (OVA) episode was released with the final DVD which changed the ending from the original television broadcast to that of a different ending. There was a small additional portion during the bra shopping scene in episode two that was considered adult enough to be censored out of the television broadcast, but which was included in the DVD release. Bandai Visual released a DVD box set of Kashimashi in Japan on June 25, 2010.
The anime series was licensed by Media Blasters in November 2006. The episodes were not dubbed into English, but still included subtitles in English. The first DVD went on sale on June 12, 2007 and contained the first five episodes. Extras on the disc included two ten-minute talks between the voice actresses for the three main female characters, a small collection of Japanese television advertisements, and text free opening videos. The second DVD went on sale on August 21, 2007, and the third and final DVD went on sale on October 23, 2007; the last two DVDs contain four episodes each, including the OVA episode. A box-set containing all three DVDs was released on October 14, 2008. The first episode of the series was included with the June 2007 issue of Newtype USA. A re-release titled Kashimashi: Girl Meet Girl Vocal Collection was released on April 26, 2011 with an English dub.
A list of the KashiMashi anime episodes can be found here.
Light Novel and Print Media
A Kashimashi light novel, written by Mako Komao and illustrated by Yukimaru Katsura, was published by MediaWorks under their Dengeki Bunko imprint on January 10, 2006. The novel is told from a first person perspective alternating between Hazumu, Yasuna, and Tomari. There is a prologue, four chapters, and an epilogue in the novel; the prologue and the first chapter are told from Hazumu's perspective, then Yasuna's for chapter two, followed by Tomari's for chapter three, and finally back to Hazumu for chapter four and the epilogue. The last three pages of the book contain an afterword written by the author.
A 112-page artbook entitled Kashimashi Official Fan Book (かしまし公式ファンブック Kashimashi Kōshiki Fan Bukku) was released by MediaWorks on March 27, 2006. The book, which is the same size as a manga bound volume, is printed in full-color for the first forty-eight pages which consists of a compilation of promotional art from the separate media types, character profiles with original sketches and comments on the characters, plus interviews from the voice actors of Hazumu, Yasuna, Tomari, Ayuki, and Jan Pu, and lastly original concept drawings of the school uniforms in the series. The middle of the book, which is printed in black-and-white, contains a brief overview of the first twenty-one chapters of the manga, and interviews from the manga author and illustrator, anime director and scenario writer, and the light novel author. There is also a brief explanation of the PlayStation 2 visual novel, of two figurines of Hazumu, and of three audio CDs for the anime version. The last sixteen pages are again in full-color and consist of the anime's first episode done in manga format.
Video Games Media
A visual novel video game based on the series named Kashimashi: Girl Meets Girl The First Summer Story (かしまし ~ガール・ミーツ・ガール~ 初めての夏物語 Kasimasi ~Gāru Mītsu Gāru~ Hajimete no Natsu Monogatari) was first released on the PlayStation 2 on March 30, 2006 in Japan. The game was developed by Vridge, published by Marvelous Interactive, and released in two editions, limited and regular, on the same day. The limited edition came in a specially made box with an original drama CD called "Kashimashi Triangle Letter", and a music CD featuring songs from the game in piano arrange versions. The game was later re-released in a Best Collection edition on November 16, 2006, which sold at less than half the price of the original game. Kashimashi: Girl Meets Girl The First Summer Story received a total review score of 26/40 from the Japanese gaming magazine Famitsu.
The game's story begins at the outset of summer vacation. Hazumu's homeroom teacher Namiko Tsuki suggests Hazumu and her friends take a one-week trip to a small mountain village with a hot springs resort. Hazumu's grandparents reside in this town, and two new characters are introduced into the story. Three other female characters are introduced as possible love interests for Hazumu; two are the same age as her, and the third is the somewhat older landlady of the resort. The goal of the game is to pair Hazumu up with one of the five female cast of characters. The gameplay's main system comes from Hazumu's indecisive personality. If the player shows more interest in a particular character, the other characters get annoyed that Hazumu is ignoring them, which is displayed by a tension meter. The more Hazumu ignores a particular character, the higher the tension between that character becomes. This ensures Hazumu stays good friends with the possible love interests. In order to view the ending of a particular character, a certain amount of tension will have to be between the other characters, but this cannot be too great or the ending will not show.
The gameplay requires little interaction from the player as most of the duration of the game is spent simply reading the text that appears on the game screen which represents either dialogue between the various characters or the inner thoughts of the protagonist. An important aspect of the game (as in nearly every visual novel) are the "decision points" which appear every so often which give the player the chance to choose from a limited number of options. The time between these decision points is variable and can occur anywhere from a minute to much longer. The game pauses at such moments and depending on which choice the player makes, the plot will progress in a specific direction. Each plot line can be achieved through multiple replays.
Welcome to Kashimashi Wiki
KashiMashi Opening Song and Animation
The Kashimashi Wiki's Official Anime Music Video
Disclosure
Enjoy this Wikia about the anime and manga series KashiMashi; Girl Meets Girl. But realize that the series contains both mature adult and transgender concepts and ideas. KashiMashi is also a Shoujo Ai ( social and emotional intimacy between young girls ) and Yuri ( romance between young girls ) themed story, featuring an intimate social, emotional, and spiritual love triangle between three teenage girls. Some of the information in this wikia may not be suitable for children, pre-teens, or others. READER AND VIEWER DISCRETION IS ADVISED !
The Management Positions for KashiMashi are all taken, and the editing manpower of this wikia is currently adequate. This fan created wikia is a very specialized and narrow focused wikia, that being a transgender themed wikia, featuring positive male to female transgender attitudes and viewpoints, and would be best to be edited by transgender people who can tell the feelings and stories of transgender persons with conviction, understanding, and compassion. However, if you still feel that you supposedly must edit on this wikia, you MUST observe these Editing Guidelines, found here.
Blu-ray Disc Availability
March 7, 2016 (USA and Canada)
May 2, 2016 (UK)
May 17, 2016 (Australia)
Other Male to Female Transgender Themed Wikias That You May Enjoy
If you liked this Wiki featuring a male to female transgender teenager as one of the Main Characters, you may enjoy these other Wikis found on FANDOM, that have a male to female transgender theme. Click on the Wiki name to be taken to that Wiki's main page---
Wandering Son Wiki / Hourou Musuko Wiki